Description cartoon:
The nineteenth season of the American animated sitcom South Park premiered on Comedy Central on September 16, 2015, and ended on December 9, 2015, containing ten episodes. As with most seasons of the show, all episodes are written and directed by series co-creator and co-star Trey Parker. The Blu-Ray and DVD sets were released exclusively to Best Buy on August 16, 2016, and were available worldwide on September 6. Much like the previous season, this season features an episode-to-episode continuity, with political correctness as a recurring theme. This season introduced PC Principal as a new major character, replacing South Park Elementary's previous principal, Principal Victoria. This season featured planned "dark weeks", weeks where no new episodes aired. These were after episode three, episode six, and episode eight.
---
Information about the cartoon:
Original Title: South Park
Country, Channel: USA, Comedy Central
Release Date: 2015
Genres: Animation, Comedy,
Creator: Trey Parker, Matt Stone, Brian Graden,
Cast: Trey Parker, Matt Stone, Isaac Hayes, Mona Marshall, April Stewart,
Runtime: 22min
Language: English
Episodes: 10
Tags:
South Park
Animation
Comedy
Brian Graden
Trey Parker
Matt Stone
Isaac Hayes
Mona Marshall
April Stewart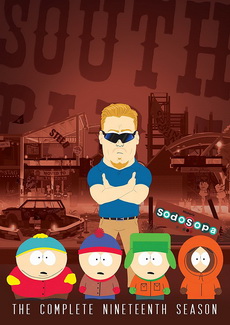 Cartoon storyboard
Data cartoon
WEB MKV 720p 6.42Gb



The release added to the format 720p! Formats 480p and 1080p (if any) will be added at the request of users!

---
Cartoon Trailer:
---
Similar cartoons:
Comments and Reviews on cartoon: