Description cartoon:
One peaceful day on Earth, two remnants of Frieza's army named Sorbet and Tagoma arrive searching for the Dragon Balls with the aim of reviving Frieza. They succeed, and Frieza subsequently seeks revenge on the Saiyans. After The god of destruction Beerus decided to not destroy the Earth, the planet is back again in peace. But, Sorbet and Tagoma, previous Freeza's servants, decide to revive his leader using the Dragon balls. Succesful in his plan, Freeza decides to return to Earth to start his revenge against the saiyans who humillated him once.
---
Information about the cartoon:
Original Title: Dragon Ball Z: Doragon bôru Z - Fukkatsu no 'F'
Country, Channel: Japan
Genres: Anime, Action, Adventure
Creator: Tadayoshi Yamamuro
Cast: Masako Nozawa, Ryô Horikawa, Hiromi Tsuru
Runtime: 94min
Release Date: 2015
Language: English, Japanese
Tags:
Dragon Ball Z
Anime
Action
Adventure
Tadayoshi Yamamuro
Masako Nozawa
Ryô Horikawa
Hiromi Tsuru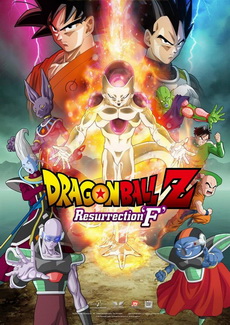 Cartoon storyboard
Data cartoon
BDR MKV 720p 3.07Gb



The release added to the format 720p! Formats 480p and 1080p (if any) will be added at the request of users!

---
Cartoon Trailer:
---
Similar cartoons:
Comments and Reviews on cartoon: