Dragon Ball Z Movie 14 - Battle of Gods Directors Cut 720p (Extended Version) - (2013 Lang: English)

Description cartoon:
The Z-Fighters must contend with Lord Beerus, the God of Destruction, but only a God can fight a God, and none of them are Gods. However with the creation of the Super Saiyan God, will the Z-Fighters be able to defeat Lord Beerus? The events of Battle of Gods take place some years after the battle with Majin Buu, which determined the fate of the entire universe. Bills, the God of Destruction, is tasked with maintaining some sort of balance in the universe. After awakening from a long slumber, Bills is visited by Whis and learns that the galactic overlord Frieza has been defeated by a Super Saiyan from the North Quadrant of the universe named Goku, who is also a former student of the North Kai. Ecstatic over the new challenge, Goku ignores King Kai's advice and battles Bills, but he is easily overwhelmed and defeated. Bills leaves, but his eerie remark of "Is there nobody on Earth more worthy to destroy?" lingers on. Now it is up to the heroes to stop the God of Destruction before all is lost.
---
Information about the cartoon:
Original Title: Dragon Ball Z: Doragon bôru Z - Kami to Kami
Country, Channel: Japan
Genres: Anime, Action, Comedy
Creator: Masahiro Hosoda
Cast: Masako Nozawa, Hiromi Tsuru, Ryô Horikawa
Runtime: 105min
Release Date: 2013
Language: English
Tags:
Dragon Ball Z
Anime
Action
Comedy
Masahiro Hosoda
Masako Nozawa
Hiromi Tsuru
Ryô Horikawa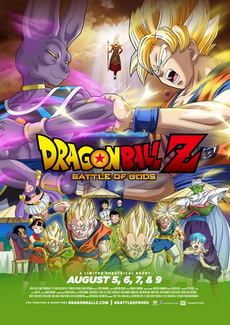 Cartoon storyboard
Data cartoon
BDR MKV 720p 1.66Gb+483mb



The release added to the format 720p! Formats 480p and 1080p (if any) will be added at the request of users!

---
Cartoon Trailer:
---
Similar cartoons:
Comments and Reviews on cartoon: