Description cartoon:
The supervillain Megamind finally defeats his nemesis, the superhero Metro Man. But without a hero, he loses all purpose and must find new meaning to his life. After super-villain Megamind (Ferrell) kills his good-guy nemesis, Metro Man (Pitt), he becomes bored since there is no one left to fight. He creates a new foe, Tighten (Hill), who, instead of using his powers for good, sets out to destroy the world, positioning Megamind to save the day for the first time in his life.
---
Information about the cartoon:
Original Title: Megamind
Country, Channel: USA
Genres: Animation, Action, Comedy
Creator: Tom McGrath
Cast: Will Ferrell, Jonah Hill, Brad Pitt
Runtime: 95min
Release Date: 2010
Language: English
Tags:
Animation
Action
Comedy
Tom McGrath
Will Ferrell
Jonah Hill
Brad Pitt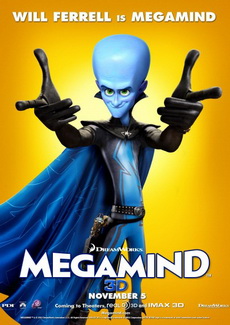 Cartoon storyboard
Data cartoon
BDR MKV 720p 3.7Gb



The release added to the format 720p! Formats 480p and 1080p (if any) will be added at the request of users!

---
Cartoon Trailer:
---
Similar cartoons:
Comments and Reviews on cartoon: