Description cartoon:
Maggie Simpson spends the day in the Ayn Rand School for Tots. Marge Simpson drops off Maggie at the Ayn Rand School for Tots, where, after going through a security screening, she is classified as being of "average intelligence", upon which a guard carries her past the "Room for Gifted Babies" and puts her in the "Nothing Special" dreary corner. The playtime items are either taken away or eaten by the other babies. A butterfly then makes its way into the room as Maggie's nemesis, Baby Gerald, squashes and kills it on the wall with a mallet and draws a box around it with a crayon. A second butterfly also meets the same fate. Maggie finds a caterpillar and a pop-up book about the life cycle of the butterfly. Realizing that the caterpillar could also meet the fate of the first two butterflies, she tries to protect it from Gerald. The caterpillar later encases itself in a chrysalis and starts to transform. Once the newly formed butterfly emerges, Maggie tries to help it fly out of the window, but Gerald seemingly kills it by shutting the blinds on it as it attempts to pass through. Maggie dramatically mourns as she falls to the floor. Marge then arrives to pick her up, when it is revealed Maggie's scene was only a ruse to cover the truth: she had slipped her hair bow onto the windowsill and wore the butterfly on her forehead in its place. She then sets the butterfly free as Marge drives her home.
---
Information about the cartoon:
Original Title: The Longest Daycare
Country, Channel: USA,
Genres: Animation, Short, Comedy, Family, Simpsons
Creator: David Silverman
Cast: Matt Groening
Runtime: 5min
Release Date: 2012
Language: English
Tags:
Animation
Short
Comedy
Family
Simpsons
David Silverman
Matt Groening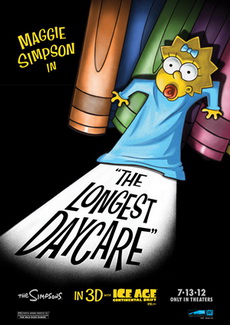 Cartoon storyboard
Data cartoon
WEB MKV 720p 124mb



The release added to the format 720p! Formats 480p and 1080p (if any) will be added at the request of users!

---
Cartoon Trailer:
---
Similar cartoons:
Comments and Reviews on cartoon: