Description cartoon:
The Black Nebula Empire, last seen in Yamato: The New Voyage, lands a huge fortress on Earth and sends out an invasion force, with the Black Nebulan fleet wipes out Earth's space fleets. The fortress contains a bomb capable of destroying half the planet. The Nebulans threaten to use it if they are attacked. The Yamato reaches the other side of the Black Nebula and finds a grand, white galaxy, similar to the Milky Way. They follow a beacon signal to a planet that looks just like Earth. They land, and are greeted by an apparently human woman, Sada, and two officers from the Black Nebulan Empire. They meet the Emperor, Scaldart, who also appears to be a human. He tells them that they are actually back in the Milky Way, in the year 2402. The vortex was a hole in time. The Earth has been under Black Nebulan rule for 200 years, and he is the (puppet) governor. Scaldart shows Kodai and the landing party all sorts of collections of Earth's famous artwork, and, up on the Yamato, the video screen scans the surface of the planet to find all of Earth's famous landmarks...
---
Information about the cartoon:
Original Title: ヤマトよ永遠に Yamato yo Towa ni
Country, Channel: Japan,
Genres: Anime, Sci-Fi
Creator: Toshio Masuda, Leiji Matsumoto
Cast: Kei Tomiyama, Yôko Asagami, Shûsei Nakamura
Runtime: 148min
Release Date: 1980
Language: Japanese, Sub: English Russian
Tags:
Yamato
Anime
Sci-Fi
Toshio Masuda
Leiji Matsumoto
Kei Tomiyama
Yôko Asagami
Shûsei Nakamura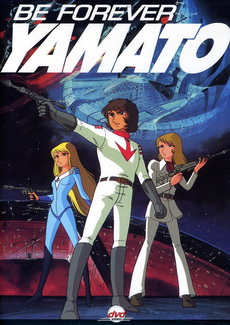 Cartoon storyboard
Data cartoon
DVR MKV 720p 3.46Gb



The release added to the format 720p! Formats 480p and 1080p (if any) will be added at the request of users!

---
Cartoon Trailer:
---
Similar cartoons:
Comments and Reviews on cartoon: