Description cartoon:
Jon and Garfield visit the United Kingdom, where a case of mistaken cat identity finds Garfield ruling over a castle. His reign is soon jeopardized by the nefarious Lord Dargis, who has designs on the estate. Garfield is back and this time Garfield and his canine sidekick Odie follows their owner, Jon Arbuckle, to England, the U.K. may never recover, as Garfield is mistaken for a look-alike, regal cat who has inherited a castle. Garfield savors the royal treatment afforded by his loyal four-legged subjects, but his reign is in jeopardy! The evil nefarious stubborn Lord Dargis is determined to do away with Garfield, so he can turn the castle into a resort. Garfield's bigger, better, more perfect world is soon turned upside down in this tale of two kitties.
---
Information about the cartoon:
Original Title: Garfield: A Tail of Two Kitties
Country, Channel: USA
Genres: Animation, Comedy, Family
Creator: Tim Hill
Cast: Breckin Meyer, Jennifer Love Hewitt, Billy Connolly
Runtime: 86min
Tags:
Animation
Comedy
Family
Tim Hill
Breckin Meyer
Jennifer Love Hewitt
Billy Connolly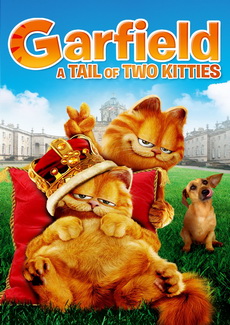 Cartoon storyboard
Data cartoon
BDR MKV 720p 2Gb



The release added to the format 720p! Formats 480p and 1080p (if any) will be added at the request of users!

---
Cartoon Trailer:
---
Similar cartoons:
Comments and Reviews on cartoon: