Description cartoon:
Original video animation (オリジナル・ビデオ・アニメーション Orijinaru bideo animēshon?), abbreviated as OVA (オーブイエー / オーヴィーエー / オヴァ ōbuiē, ōvīē or ova?) media (and sometimes as OAV, original animated video), are animated films and series made specially for release in home video formats without prior showings on television or in theatres, though the first part of an OVA series may be broadcast for promotional purposes. OVA titles were originally made available on VHS, later becoming more popular on LaserDisc and eventually DVD. Starting in 2008, the term OAD (original animation DVD) began to refer to DVD releases published bundled with their source-material manga.
---
Information about the cartoon:
OVA (OVA, OAV, Original Video Animation) - anime, which was released for sale on various video media (VHS, DVD) and previously it never broadcast any TV channels or cinemas. OVA can consist of a one series or of several. As a rule, everything is erotic anime produced in OVA-format (but do not think that in the OVA is reduced only to eroanime). Examples OVA-Release can serve such as the animes: "FLCL", "Video Girl Ai", "Urotsukidoji", "Wolf Rain OVA", "La Blue Girl" and others.
ONA (ONA, original net animation) - anime, going on the Internet and, as a rule, do not reach sales by video or show on TV or in cinemas. Often ONA represents a low budget "home-made" anime short films, by beginners anime directors and distributed free of charge on the web. Examples: "Rain, the little girl, and my letter", "Platonic chain Web", "Azumanga Daioh Web".
Tags:
OVA
OAV
ONA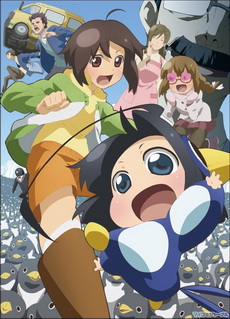 Cartoon storyboard
Data cartoon
OVA, OAV, ONA Web



The release added to the format 720p! Formats 480p and 1080p (if any) will be added at the request of users!

---
Cartoon Trailer:
---
Similar cartoons:
Comments and Reviews on cartoon: