Description cartoon:
Ronja, the only child of a bandit chief, grows up among a clan of robbers living in a castle in the woodlands of early-Medieval Scandinavia. When Ronja grows old enough she ventures into the forest, exploring and discovering its wonders and dangers like the mystical creatures that dwell there. She learns to live in the forest through her own strength, with the occasional rescue by her parents. Ronja's life begins to change, however, when she happens upon a boy her own age named Birk, who turns out to be the son of the rival clan chief. Ronia the Robber's Daughter (Japanese: 山賊の娘ローニャ Hepburn: Sanzoku no Musume Rōnya) is a computer-animated cel shaded anime series, based on the book Ronia the Robber's Daughter (Ronja Rövardotter) written by Astrid Lindgren. The series is directed by Gorō Miyazaki and animated by Polygon Pictures, and co-produced by Studio Ghibli. Miyazaki stated, "Ronia the Robber's Daughter is a story not just about a girl who grows into adulthood, but it is also a story about the love and growth between a parent and a child, and a story about the bonds between friends. My goal is to create a work that everyone, from children to adults, will be able to enjoy."
---
Information about the cartoon:
Original Title: Sanzoku no Musume Ronja
Country, Channel: Japan, NHK
Release Date: 2014
Genres: Fantasy, Anime, Animation, Family
Creator: Gorō Miyazaki
Cast: Fukiko Endô, Yukari Nozawa, Umeji Sasaki, Takaaki Seki, Haruka Shiraishi, Rintarou Nishi, Yusuke Tezuka, Shôichirô Akaboshi, Keiji Himeno, Takeo Ogawa, Kenji Sugimura, Reika Uyama
Runtime: 25min
Language: Japanese, Sub: English
Episodes: 26
Tags:
Fantasy
Anime
Animation
Family
Gorō Miyazaki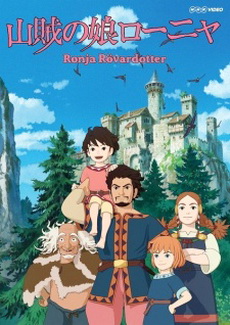 Cartoon storyboard
Data cartoon
HDTV MKV 720p 9.05Gb



The release added to the format 720p! Formats 480p and 1080p (if any) will be added at the request of users!

---
Cartoon Trailer:
---
Similar cartoons:
Comments and Reviews on cartoon: