Description cartoon:
Dracula, who operates a high-end resort away from the human world, goes into overprotective mode when a boy discovers the resort and falls for the count's teen-aged daughter. In 1895, Dracula builds a resort in Transylvania, hidden from the humans, to raise his beloved daughter Mavis in a safe environment. In the present, the place is the Hotel Transylvania, where monsters bring their families to vacation far from the frightening humans. Dracula invites his friends - Frankenstein and his wife Eunice; Wayne and Wanda, the werewolves; Griffin, the invisible man; Murray, the mummy; Bigfoot, among others - to celebrate the 118th birthday of Mavis. When the party is ready to start, the 21-year-old Jonathan is walking through the forest and stumbles upon the hotel. Dracula sees Jonathan and disguises him as a monster to hide Jonathan from the guests. But Mavis also sees Jonathan and Dracula forces him to pose as a monster. Soon Mavis believes that Jonathan is the "zing" of her life despite the advice of her father about humans.
---
Information about the cartoon:
Original Title: Hotel Transylvania
Country, Channel: USA
Genres: Animation, Comedy, Family, Fantasy, Tale,
Creator: Genndy Tartakovsky
Cast: Adam Sandler, Kevin James, Andy Samberg
Runtime: 91min
Release Date: 2012
Language: English
Tags:
Hotel Transylvania
Animation
Comedy
Family
Fantasy
Tale
Genndy Tartakovsky
Adam Sandler
Kevin James
Andy Samberg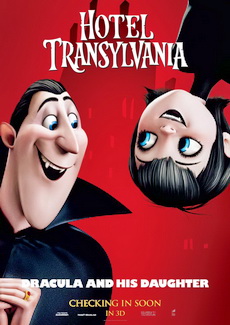 Cartoon storyboard
Data cartoon
BDR MKV 720p 1.9Gb



The release added to the format 720p! Formats 480p and 1080p (if any) will be added at the request of users!

---
Cartoon Trailer:
---
Similar cartoons:
Comments and Reviews on cartoon: