Description cartoon:
This is the sequel to the first Full Metal Panic! series and starts where the first series left off. Sousuke is back and is having a hard time mixing school and his military job, but things are not going to be easy for Sagara and his friends, because a secret organization wants to eliminate Mithril and carry on their evil plans. Full Metal Panic! The Second Raid (フルメタル TSR Furumetaru TSR) is the direct sequel to the original anime series. It was produced by Kyoto Animation and ran for 13 episodes. The series is based on the Ending Day by Day novels and takes place three months after the events that occurred in the Tuatha de Danaan at the end of the original Full Metal Panic! series. Mithril learns of a secret organization that has technology able to counter the ECS (Electronic Conceal System) mode. The organization, known as Amalgam, has access to Black Technology, which was obtained from the Whispered. Like the other intelligence agencies, Amalgam intends to obtain more. Sousuke's mission to protect Chidori is terminated by Mithril, instead leaving her in the care of an anonymous agent known as Wraith.
---
Information about the cartoon:
Original Title: フルメタル TSR Furumetaru TSR
Country, Channel: Japan, Kyoto
Genres: Anime, Action, Comedy, Romance, Sci-Fi, Mecha, Military, School
Creator: Yasuhiro Takemoto
Cast: Tomokazu Seki, Satsuki Yukino, Akio Ôtsuka
Runtime: 23min
Episodes: 13+2 OVA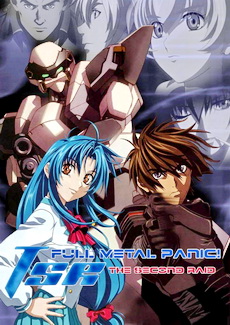 Cartoon storyboard
Data cartoon
BDR MKV 720p 7.11Gb



The release added to the format 720p! Formats 480p and 1080p (if any) will be added at the request of users!

---
Cartoon Trailer:
---
Similar cartoons:
Comments and Reviews on cartoon: