Description cartoon:
Fritz the Cat may have lost one of his lives in the comics, but in his new movie, he has eight more lives left to go! While his wife screams at him, Fritz lights up a joint and reminiscences about what could have been. Fritz, now married and with a son, is desperate to escape from the domestic hell he now finds himself in. Lighting up a joint, he begins to dream about his eight other lives, hoping to find one that will provide a pleasant distraction. The drug-induced journeys he takes include spells as an astronaut, Hitler's psychiatrist, a courier travelling in hostile territory during a race war, and as a pupil of an Indian guru living in the sewers of New York.
---
Information about the cartoon:
Original Title: The Nine Lives of Fritz the Cat
Country, Channel: USA
Genres: Adult, Animation, Comedy
Creator: Robert Taylor
Cast: Skip Hinnant, Reva Rose, Bob Holt
Runtime: 77min
Release Date: 1974
Language: English, Russian
Tags:
Fritz the Cat
Skip Hinnant
Reva Rose
Bob Holt
Robert Taylor
Adult
Animation
Comedy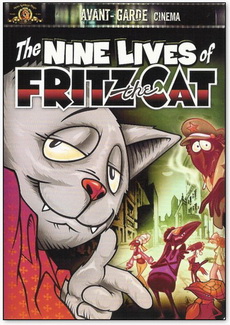 Cartoon storyboard
Data cartoon
DVR MKV 720p 1.98Gb



The release added to the format 720p! Formats 480p and 1080p (if any) will be added at the request of users!

---
Cartoon Trailer:
---
Similar cartoons:
Comments and Reviews on cartoon: