Description cartoon:
Po and the Furious Five uncover the legend of three of kung fu's greatest heroes: Master Thundering Rhino, Master Storming Ox, and Master Croc. Po breaks into the Hall of Heroes with Tigress and Mantis to see the new exhibits, especially for the ones featuring Masters Thundering Rhino, Storming Ox and Croc. Once there, Po tells the story of how that trio began as small time street fighters until the villainous Wu Sisters escape with plans to conquer China. Against this threat, Master Oogway convinces the selfish trio to accompany him on a quest to stop the sisters. In the challenges that follow, those masters find that the grandiose promises of riches they heard are fading as they learn that there are things far more worthy to fight for.
---
Information about the cartoon:
Original Title: Kung Fu Panda: Secrets of the Masters
Country, Channel: USA
Genres: Animation, Short, Action
Creator: Tony Leondis
Cast: Jack Black, Angelina Jolie, Dustin Hoffman
Runtime: 23min
Tags:
Animation
Short
Action
Tony Leondis
Jack Black
Angelina Jolie
Dustin Hoffman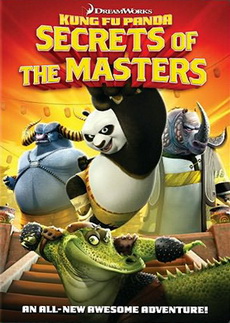 Cartoon storyboard
Data cartoon
BRRip MKV 720p 515mb



The release added to the format 720p! Formats 480p and 1080p (if any) will be added at the request of users!

---
Cartoon Trailer:
---
Similar cartoons:
Comments and Reviews on cartoon: