Description cartoon:
One day, when Koichi was on a crowded train, a girl in front of him suddenly cried out, "He's a train molester!" "What!? No, I didn't do that!" He was mistakenly arrested for train molestation. Two years later, Koichi is now on a train to take revenge on that girl, "I'll do it...." In a crowded train in the morning, the sound of flowers to witness the molestation. A level not scuff. That is GA clothes, pants and heavy rail Molester be brought down. The only sound was the pick of the flowers, but also other people did know was just watching the scene. Molester after the ejaculation, down from the train going to look at each other flowers and sound of molestation. Molester sound flowers had seen the face of fear and emotion were expected to learn ZE. At home that day, none of the popular car at dusk. Flowers sit on the seat in front of the sound shape of molestation in the morning. The sound of the voice without getting flowers, the man will be at the mercy. "Well, I is Molester this man ..." buttocks, chest and groin. Flowers sounds, is BA peak, it had yet to urinate. The collapse of flowers left to the sound man. Molester sued and lost all of man's revenge does not stop! Of revenge against the three sisters out of three women succeeded in breaking the sound of the flowers. Nao's second daughter, Kyoko's daughter began to revenge! Unattended in the furniture department of a department store, are bound by Nao fainting. And the first thing I know, the guy next to the flowers and the sound is strongly involved. "Flower sound, Honey, what are you doing!" "Oh application, the application is, quite oblivious to sis ... ... get to the destination ..." /url]wing man coldly, "you are next! In a mess Help! "Before the hole in the back of the hole to continue his relentless attack ... Nao in the fall of intense pleasure. Next go to the eldest daughter Kyoko! Be achieved Revenge of the man?
---
Information about the cartoon:
Original Title: The Last Train To Gropesville Japanese: 必殺痴漢人
Country, Channel: Japan, Digital Works, Y.O.U.C
Release Date: 2008
Genres: Visual novel, Hentai, Drama, Chikan, Molester, Incest, Rape, Anal sex, Oral sex, Toy, OVA
Creator: Tomohiro Yoshida, Kentarou Tsubone,
Cast: Kanon
Runtime: 27 minutes
Language: English,
Episodes: 2
Tags:
Drama
Chikan
Molester
Incest
Rape
Anal sex
Oral sex
Toy
Visual novel
Hentai
OVA
Kanon
Tomohiro Yoshida
Kentarou Tsubone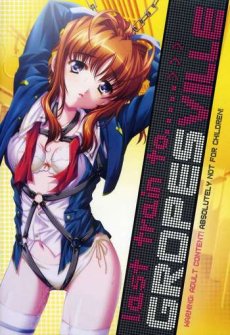 Cartoon storyboard
Data cartoon
WEB MKV 480p 820mb



The release added to the format 720p! Formats 480p and 1080p (if any) will be added at the request of users!

---
Cartoon Trailer:
---
Similar cartoons:
Comments and Reviews on cartoon: