Description cartoon:
Season 5 of Winx Club, known as Winx Club: Beyond Believix in the Nickelodeon English version, is an Italian animated series that premiered on 26 August 2012 on Nickelodeon in the United States and on 16 October 2012 on Rai 2 in Italy. It spanned 26 episodes. It was the first season to be co-produced with Nickelodeon. In this season, the Winx face a threat underwater and will have to face a new dreadful villain, Tritannus. He was a normal triton who was mutated into a powerful monster caused by pollution. His main goal is to become the emperor of the Infinite Ocean. The Believix power is not strong enough underwater, so the Winx start a challenging quest to get the ancient Sirenix power and become ocean fairies.
---
Information about the cartoon:
Original Title: Winx Club season 5
Country, Channel: Italy, Nickelodeon,
Genres: Animation, Action, Adventure
Creator: Iginio Straffi
Cast: Liza Jacqueline, Caren Manuel, Helena Evangeliou
Runtime: 22min
Episodes: 26
Tags:
Winx
Nickelodeon
Animation
Action
Adventure
Iginio Straffi
Liza Jacqueline
Caren Manuel
Helena Evangeliou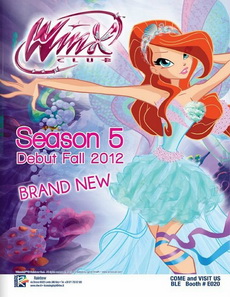 Cartoon storyboard
Data cartoon
HDTVR 720p 13.4Gb



The release added to the format 720p! Formats 480p and 1080p (if any) will be added at the request of users!

---
Cartoon Trailer:
---
Similar cartoons:
Comments and Reviews on cartoon: